One-component PU waterproof coating
Brand JDHT
Product origin China
Delivery time 3-15 days
Supply capacity Waterproofing coating 100 thousand tons
Features
1.One component, easy to use;
2.High-strength;
3. High elongation
4. High resilience (shrinkage or cracking) properties;
5. Excellent bonding property, applicable on various substrates;
6. Eco-friendly, contains no coal tar nor toxic solvents.
Download
One-component PU waterproof coating
One-component PU waterproof coating
One-component PU waterproofing coating
Description


One-compound PU waterproof coating is made out of isocyanate and polyether polyol, together with various additives.

Coating on the waterproof base layer, after chemical reaction of polyurethane prepolymer and moisture in the air,

it forms a continuous, jointless, rubber-like waterproof film.

PU waterproofing has two types, one-compound and two-compound, or single component polyurethane waterproofing

and double component polyurethane waterproofing.


Polyurethane waterproof paint color can be grey, white, black, red and etc.
1. Leveling Substrate should be smooth and firm.
2. Cleaning No garbage, floating pulp on the substrate, keep it dry.
3. First coating The first layer should be very thin, covering the substrate is enough, less than 0.5mm thickness.

4. Second & Third coatings Apply the second layer provided the first layer is cured. Coating direction is vertical to the
first one and then the third layer's direction is the same as the first one.
Recommended Usage: 1.0~1.6 kg/sqm, 1mm thickness, total thickness no less than 1.5mm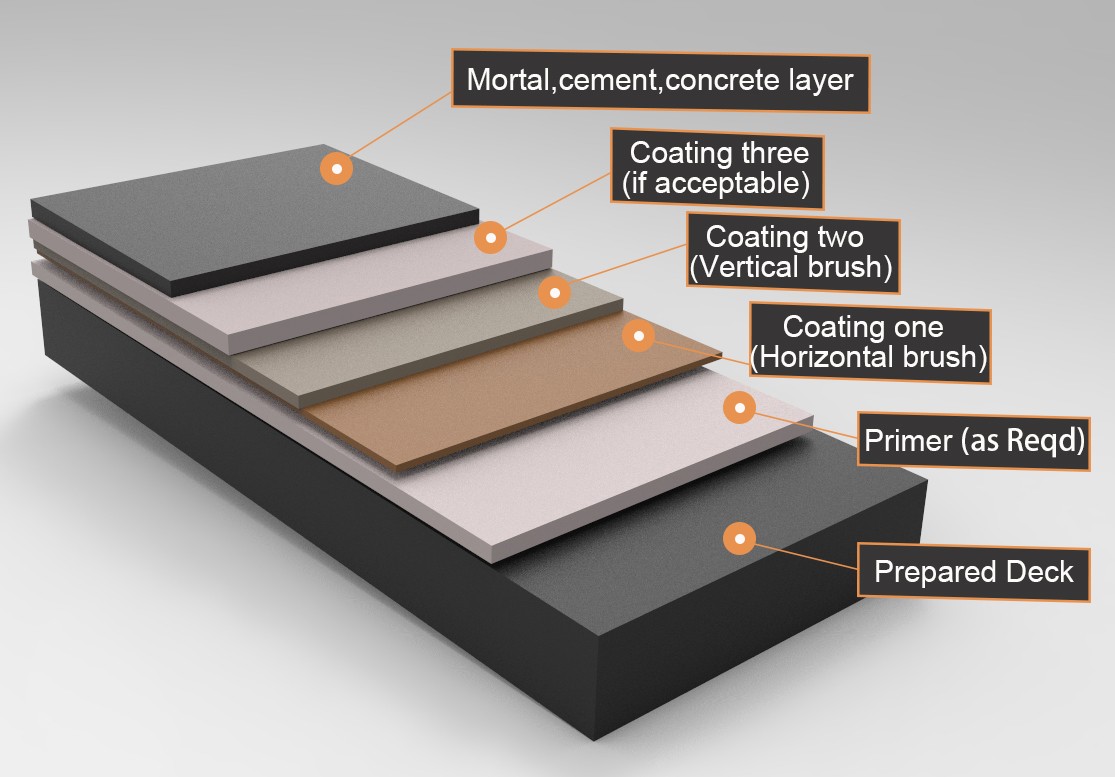 No.

Items
Specification

I
II
III
1
Solid content, %, ≥
One-compound
85

Two-compound

92
2
Tensile strength, MPa, ≥
2.0
6.0
12.0
3

Elongation at break, %, ≥

500

450

250
4

Flexibility at low temperature, ℃

-35, pss

5
Surface drying time, h, ≤

12
- Blow-ground
- retaining walls
- Roofs
- Pools
- Subways
- Railways
- Other available projects
- White,Black,Grey,Green,OEM